The equity in your home is there for you to use. Granted, you can let it sit and it will continue to grow. History has proven that real estate is a solid investment that grows over time. Even if you do nothing with the equity in your home, it will continue to grow. You can also use it to secure purchases in homes for sale in Johns Creek or vacation or rental property. Owning multiple properties can be an easy way to grow your wealth. Or, you can use it to finance improvements that will grow your wealth. The more equity you have, the more wealth you have.

You have the power to increase the equity in your home and likewise your wealth. Here is how:


Add Square Feet to the Property
The best way to increase the value of your property and likewise your equity is to add square feet to the home. The value of homes for sale in Duluth is based on square feet. The more square feet you have directly equates to the value of your home.

Even if you don't want to invest in a major addition, you can still add square feet to your home. Look for areas of your home that can be used as "flex" spaces, such as attic space. Finishing the attic area can provide office space, a guest bedroom, or an exercise area, all areas that are in demand. Be cautious when adding sunrooms, however. They can be costly and likely won't provide the bump in value that other improvements would. If you can add an outdoor space that can be enclosed with screens, for example, you might add more value to your home than adding a sunroom. This is because the outdoor space provides more flexibility. It can be used as an outdoor kitchen, for example, and a sunroom cannot.
Add Useable Outdoor Areas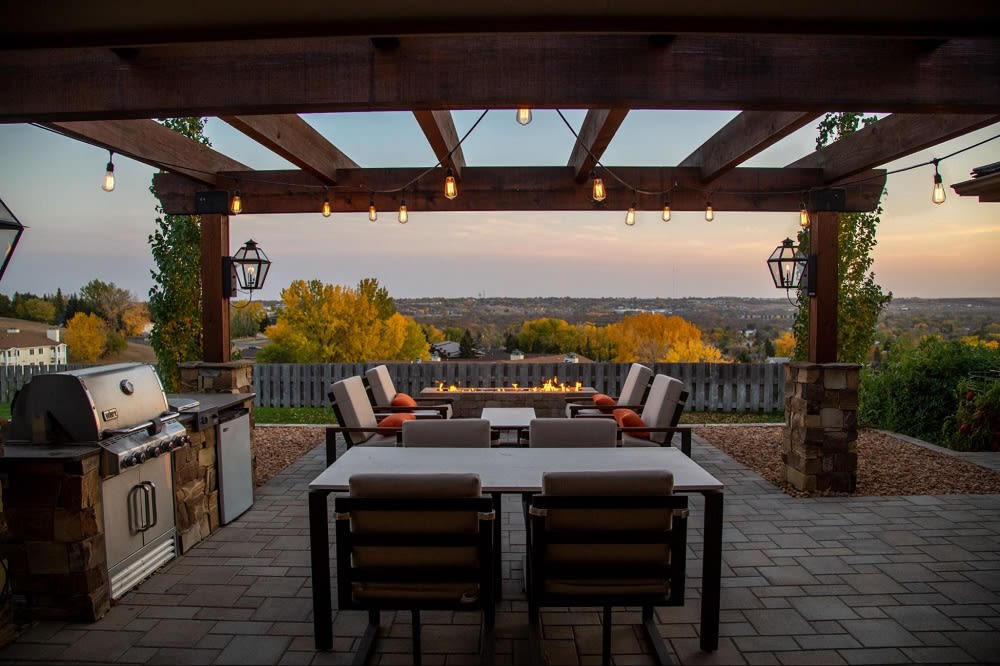 Without a doubt, outdoor kitchens increase the value of your home. They provide a fun space for cooking and we are doing a lot more cooking at home now. They provide a great place for family and friends to share a meal where there is plenty of room and sunshine for everyone to enjoy. A comfortable outdoor dining space can double as a home office on nice days. You can work and recharge while enjoying the Georgia sunshine and green spaces. Adding a cove for respite in the yard is like adding another room. It might not change the value of your appraisal, but it will in the mind of the homebuyer. When they see a cozy seating area surrounded by shade, they see another "room" to enjoy on the property. If you have unusable yard space due to wet areas or steep grading, consider doing some hardscaping to transform the space. Good landscaping makes a noticeable difference in the value of homes for sale in Johns Creek.
Remodel the Kitchen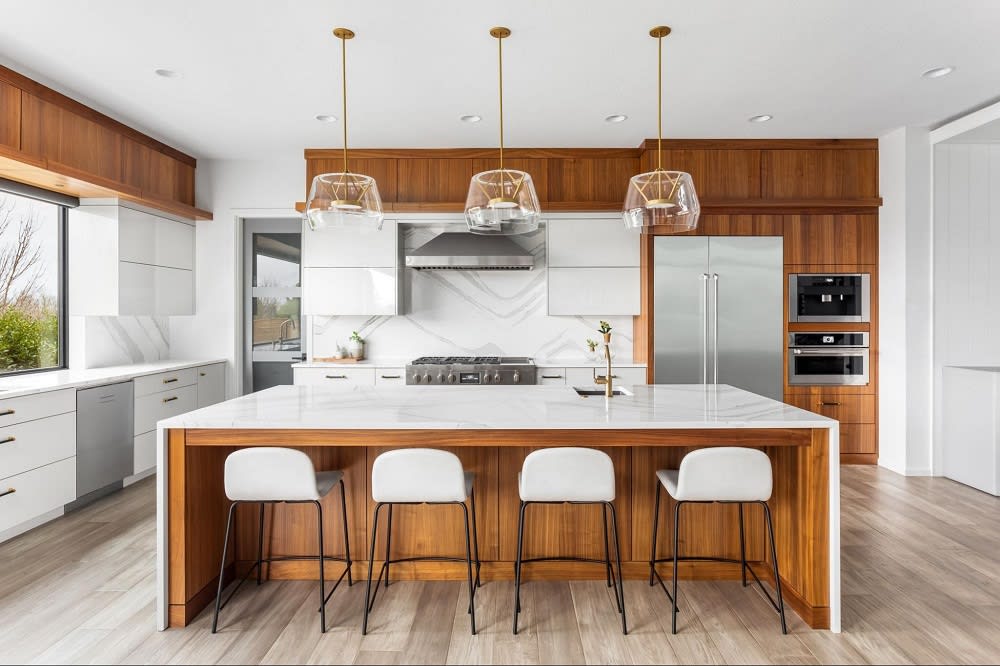 Upgrading your kitchen will increase the value of your home. Upgrading to some of the newest materials and conveniences will ensure your kitchen is on-trend for years to come. If you have the space, add a walk-in pantry. Designer pantries are becoming increasingly popular. We are doing more cooking at home, and we are stocking up more on kitchen goods. So, we need more space for storage in our kitchen.

Modern appliances use less energy and will save you money on utility bills. Look for panel refrigerators. They blend in with the cabinetry and make the whole room feel more upscale and less utilitarian. There are enough options available now where you can find the panels to match just about any cabinetry. Or you can make a bold statement by using a contrasting panel. It will hide the refrigerator while making your kitchen visually appealing for homes for sale in Duluth. Marble is the new granite; don't be shy with it. Installing marble on the sides of the island and from the countertop to the ceiling makes a gorgeous statement and turns your kitchen into a luxury kitchen.
Remodel the Bathroom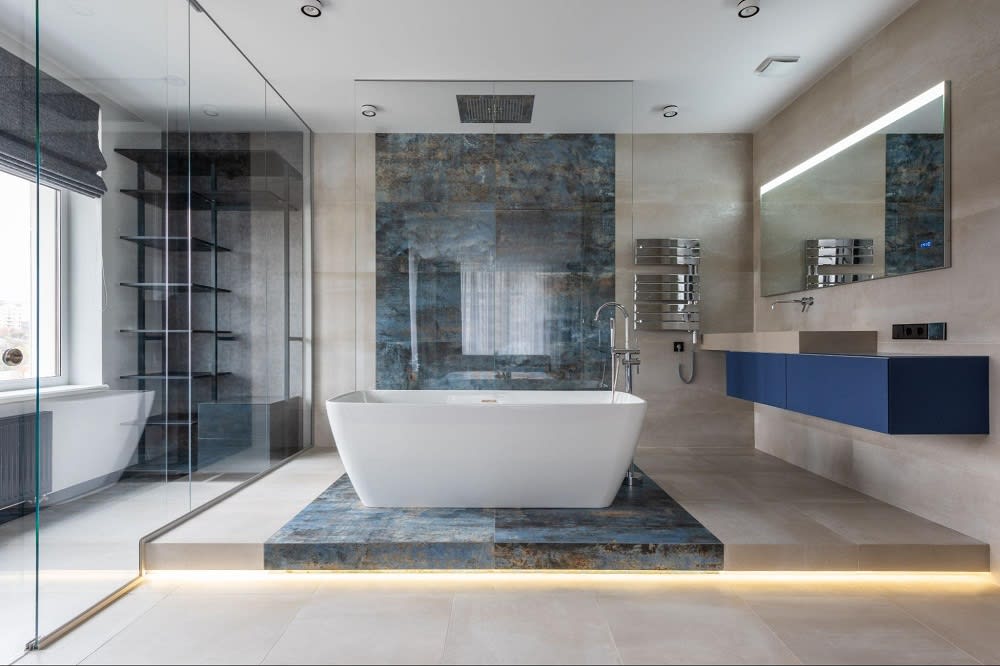 What if your bathroom felt like a spa? Modern walk-in showers have all the conveniences of a spa with multiple rain showerheads, and the capacity to take advantage of the heat and steam. Wouldn't your day start off better if you walked into a spa-like shower? If you don't have the space for a walk-in shower, swapping out the shower door with a modern one will have a big effect on the room.

Upgrading the hardware and fixtures is an easy way to increase the value of homes for sale in Johns Creek. Marble in the bathroom is becoming increasingly popular. Sometimes it is only used on the vanity, sometimes it is the entire wall around the shower. Either way, upgrading the tile or installing marble in your bathroom can transform an ordinary bathroom into a luxury bathroom.
Add Landscaping
Aside from the hardscaping we mentioned above, adding easy to care for trees, plants, and shrubs is like the finishing touch on a well-designed home. Landscaping can transform an ordinary yard into a relaxing retreat, or garden get-a-way.

There are two important things to keep in mind when adding landscaping. One, it needs to match the home and the property. A rustic bench and shabby-chic shed will likely not blend in with a contemporary home. A well-landscaped yard will blend in and feel natural. Two, it needs time to grow to feel lush and luxurious. Use color in the flowers and plants to add some fun and colorful energy. Good landscaping increases the sale price of homes for sale in Duluth.
Use it Well
There are a lot of ways you can use the equity in your home to grow your wealth. The key is to use it well and not overextend yourself. Your local banker is happy to talk with you about options for using your equity and increasing your wealth. In fact, it is easier for the banker to help you if you speak with them early. The same is true for your realtor. A good agent is happy to talk with you about investment opportunities. An agent experienced with investment properties will be able to educate you on what to expect and guide you toward good options.

Regan Maki's Team of realtors is happy to discuss investment options with you. They are experienced, local agents who can help you find the home or investment property to fit your needs.